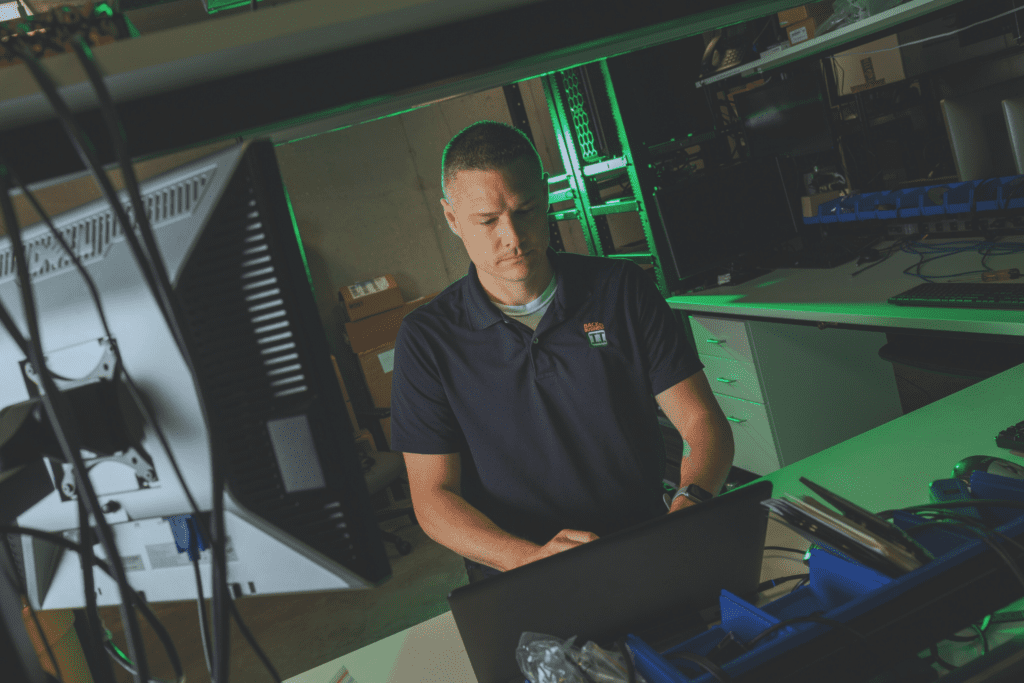 CYBERSECURITY SERVICES
A strong defense against evolving cyber threats requires an always-on security mentality. But for many small and medium-sized businesses (SMBs) with limited security expertise and toolsets, shifting to a more proactive approach to threat detection can be difficult. It's no surprise business owners are increasingly turning to managed service providers for cost-effective cybersecurity skillsets and services.
At Back To Business I.T., we understand how you work and the challenges you face. Simply put: We've got you covered.
Our network threat detection and response team delivers real-time intelligence and visibility into events occurring within your environment. We provide rapid investigation and remediation — managed 24/7 by Security Operations Center (SOC) staff skilled at quickly discerning what's real from the white noise of false positives.
We deliver everything you need for comprehensive threat detection and analysis, including intrusion detection, threat intelligence, log storage with configurable retention, and managed SOC services. By removing the necessity of having multiple security products and the related costs and complexity, you gain a stronger security and compliance posture, and ease of operation. The result: You're free to focus on what you do best — running your business!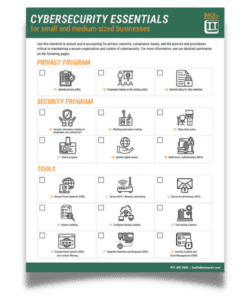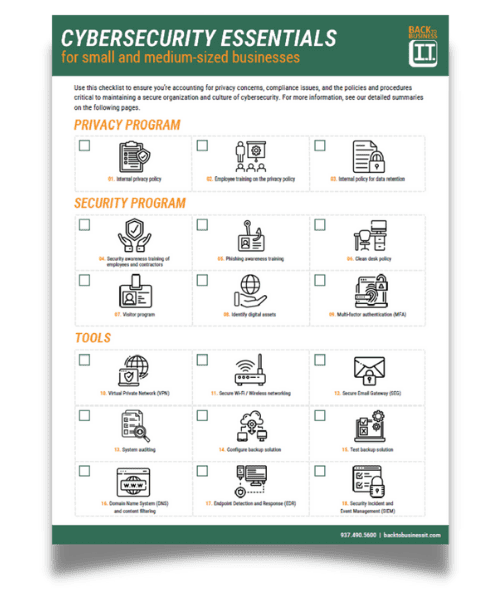 Cybersecurity Essentials Checklist
Download this checklist to make sure your business is accounting for privacy concerns, compliance requirements, and the policies and procedures critical to maintaining a secure organization and culture of cybersecurity.
BENEFITS OF PROFESSIONAL CYBERSECURITY SERVICES
VULNERABILITY AND SECURITY ASSESSMENTS
■ We'll identify ways to immediately secure your business.
■ You'll protect your data, cloud, clients, and remote workforce.
SEAMLESS ENDPOINT PROTECTION
■ We'll stop active threats, investigate origins and minimize harm.
■ You'll take advantage of Endpoint Detection and Response (EDR).
COMPREHENSIVE PROTECTION FOR SMBs
■ We'll close gaps in security while adhering to best practices.
■ You'll leverage technology to grow your business and achieve compliance.
SaaS AND SECURITY FOR CLOUD-BASED APPS
■ We'll actively monitor Microsoft 365 and other apps for risks and threats.
■ You'll receive a daily review of account activities and anomalies.
COMPLETE NETWORK SECURITY
■ We'll provide you with comprehensive SIEM services.
■ You'll enjoy nonstop monitoring from our 24/7 Security Operations Center.