CO-MANAGED IT
Managing the complexity of networks and servers, compliance standards, cybersecurity, application updates, software licenses and patches, hardware replacements, and more — all while trying to keep up-to-date with new technology and provide 24/7 support — is a lot to expect from one employee.
Let's face it, your IT department is an essential and necessary part of your business, but even your most competent staff can't do it all or know it all.
Back To Business I.T. offers a co-managed IT model that allows your business to customize which services you perform in-house and determine where we can step in with an "extra pair of hands". For example, your existing IT team might manage software updates, installations, and cabling, but you need 24/7 help-desk support and cybersecurity training for business employees. That's where we can help!
For companies with limited internal resources, co-managed IT offers business agility and has significant cost and operational benefits. Contact us today to get a quote!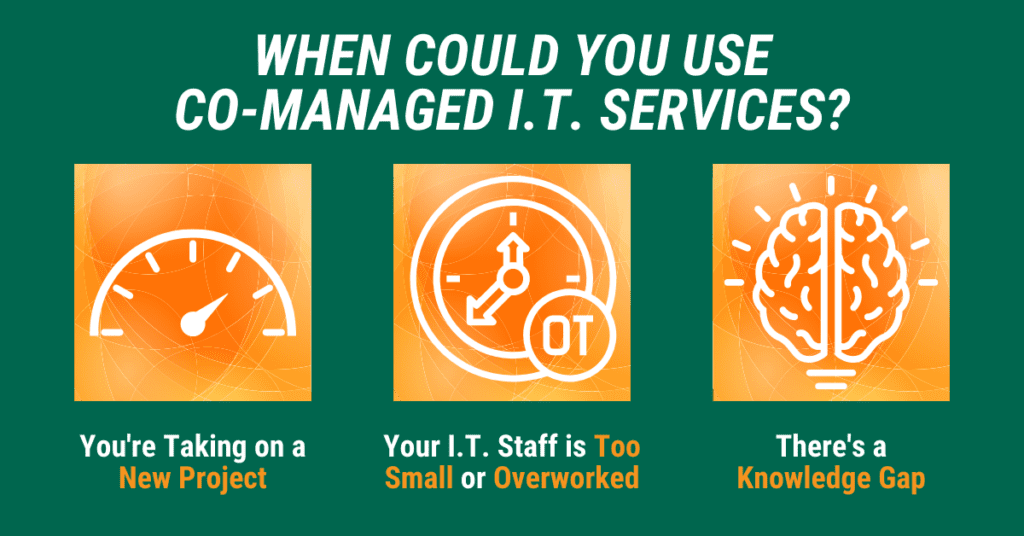 BENEFITS OF CO-MANAGED IT
IT EXPERTISE ON-DEMAND
■ We'll provide expert resources and implement best practices used throughout the industry.
■ You'll be able to offboard problems you have less experience fixing.
INCREASED PRODUCTIVITY
■ We'll cover routine maintenance, upgrades, and patches, allowing your systems to run more efficiently.
■ You'll experience fewer interruptions to operations.
AROUND-THE-CLOCK SUPPORT
■ We'll help cover sick and vacation time.
■ You'll receive support during peak "demand periods", eliminating the need to pay overtime.
BETTER SECURITY
■ We'll create layers of security, making entry into your organization more difficult for bad actors.
■ You'll rest easy knowing your business data is safe.
LESS BURNOUT AND BOOSTED EMPLOYEE MORALE
■ We'll give your in-house team the resources they need to be successful.
■ You'll create a work environment that promotes longevity and reduces burnout.