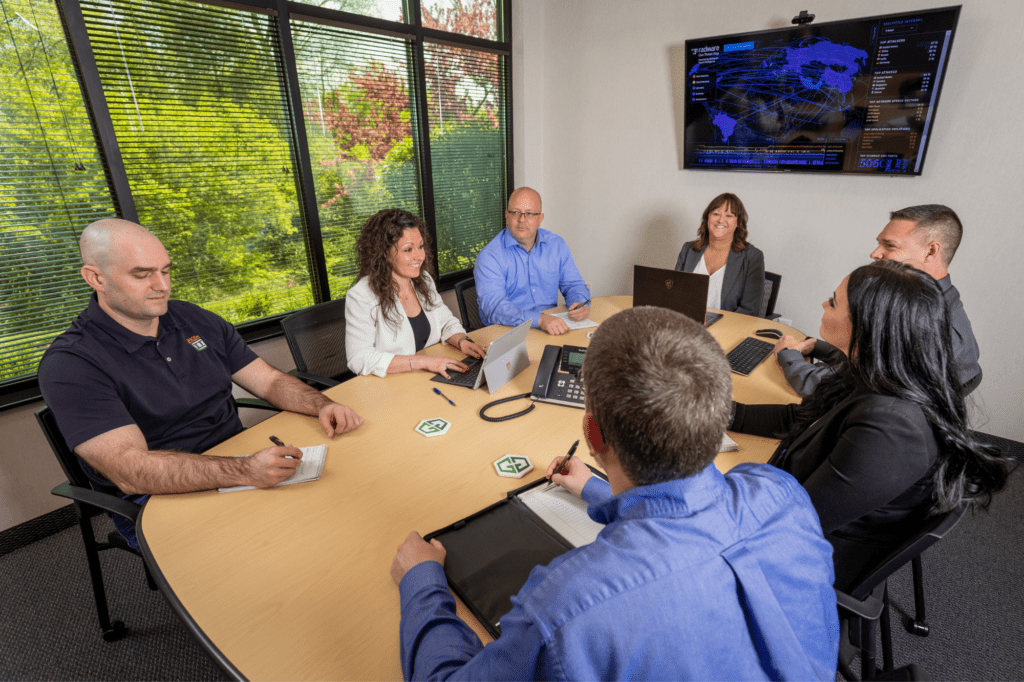 JOIN OUR TEAM!
Back To Business I.T. is a commercial service of The Greentree Group, catering to organizations of all sizes in a variety of industries. We are always looking to hire people with the right attitude, integrity, and level of responsibility to lead from the ground up and dive right in. We want people whose values align with ours – who believe in doing the right thing, every time.
WE WANT YOU ON OUR TEAM IF YOU ENJOY:
A fast paced, team-oriented workplace.
Creativity and open communication.
Healthy relationships with clients.
Good old-fashioned hard work.
Learn more about Back To Business I.T., view our core values, and meet the executive team by clicking here!
Employee Benefits at a Glance
We offer an attractive, flexible benefits package and endless opportunities to grow within the company. Check out a few of the benefits our employees love most below!
If you would like additional details on the entire benefits package, please email careers@greentreegroup.com or fill out this form.
Medical
100% of employee premium covered under HDHP plan.
PTO
Generous paid time off.
401(k)
401(k) options and company match.
Hybrid Model
Flexible work environment/hours.
Holidays
11 paid holidays, including five floating days.
Tuition Reimbursement
Performance-based reimbursement of academic costs, including tuition and books.
Paid Parental Leave
In addition to FMLA/STD, leave for employees with a newborn or adoptive/foster child placed.
Paid Training and Development
Skill learning and growth opportunities.
The proof is in the puddin'.
Read real reviews from former and current employees about what it's like working for us!

The People Make All The Difference
Working at Greentree has been an amazing experience so far. When I asked my contacts before accepting the offer, everyone had only positive things to say about this company. It's been around for a while and they have a great history in the WPAFB community. If you get a chance to work at the main HQ building, the people there are great to work with – they make all the difference. I've always felt welcomed and appreciated.
ANONYMOUS EMPLOYEE

I Miss Working For Greentree
I loved working at Greentree. I worked there for about four years before relocating and I miss it every day!  If you're looking for a family-oriented culture and wonderful people to work with, Greentree is for you! I never felt like I was a number. The leadership seemed to care (even HR! – a rarity these days) about me. They all knew my name and remembered details about my life.
SENIOR ANALYST | BEAVERCREEK, OH

Multi-Generational, Family Values-Based
This small, family-owned consulting company has successfully transferred leadership control from one generation to another and is already working succession management for the next. Always teamed with people of high intellectual and emotional intelligence. Assignments always simultaneously fit and stretch you. It feels like family here.
CONSULTANT | BEAVERCREEK, OH

Found A "Home"
Joining Greentree was one of the best decisions I ever made. After working for several other companies in the area, large and small, I was feeling pretty jaded and was thinking about moving. Greentree is redefining what a "good" company to work for is. I love it here. The culture is awesome. The work can be stressful (all jobs can be) but having such a great team around me makes all the difference. It's more than just a paycheck to me. Feeling like part of a team that matters is such a good feeling. First time I've ever had a job that I've felt this way.
ANONYMOUS EMPLOYEE